Hugo turned 10 months old on Tuesday and I can't quite believe where the weeks are going. He will be one year old soon which hurts my heart a bit! It feels like only yesterday I gave birth and only a bit longer since I found out we were having him. I love being a mum I feel like it gives me purpose and they both bring so much love and light to my life. So on that note here is my Living Arrows 13/52 post!
Living Arrows 13/52
This week was fairly quiet as things started to wind down for the Easter holidays. Hugo got his first cold and struggled with a high temperature, cough and stuffy nose! He likes sharing though and soon we were all taken down by the bug so we spent the end of the week getting over that!
We had a spot of unusually warm sunshine weather this weekend though so we spent the afternoon on Sunday playing on the scooters out at the front of the house. Hugo had his first ride on Henry's old trike and we all just paused for a moment and realised how grateful we are. A year ago we hadn't even thought moving house was a possibility and now we live in a place where my children can play outside and it's quiet and I'm happy and there is a lot to be said about that!
This next week is filled with work and the last few days of school and then the Easter holidays begin. We have no plans but I'm hoping we get a good few days weather wise so we can play out and go on some adventures it's our first Easter as a family of four and I want it to be memorable!
I hope you enjoyed my Living Arrows 13/52 2019 post it's nice to have posts like this to look back on and reminice. The days are short and the years seem shorter and I want to savour every second and remember every moment because they don't stay around too long.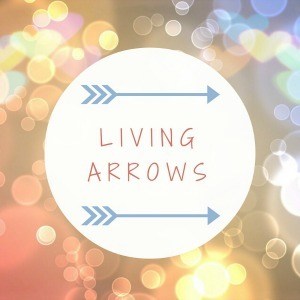 ---
Thank you for stopping by! Check out my last post here.
Love as always!
More From Me
Want to find out more about me? Head over to this page. If you like reading posts like this then it is free and easy to follow me on Bloglovin. Don't forget to head over to my Instagram, Facebook, Twitter & YouTube pages.
As always words, views and opinions are honest and my own. Links marked with "*" are affiliate links this does not cost you anything additional but may mean that I receive a small percentage from any sales. For more information about any of this please head over here.